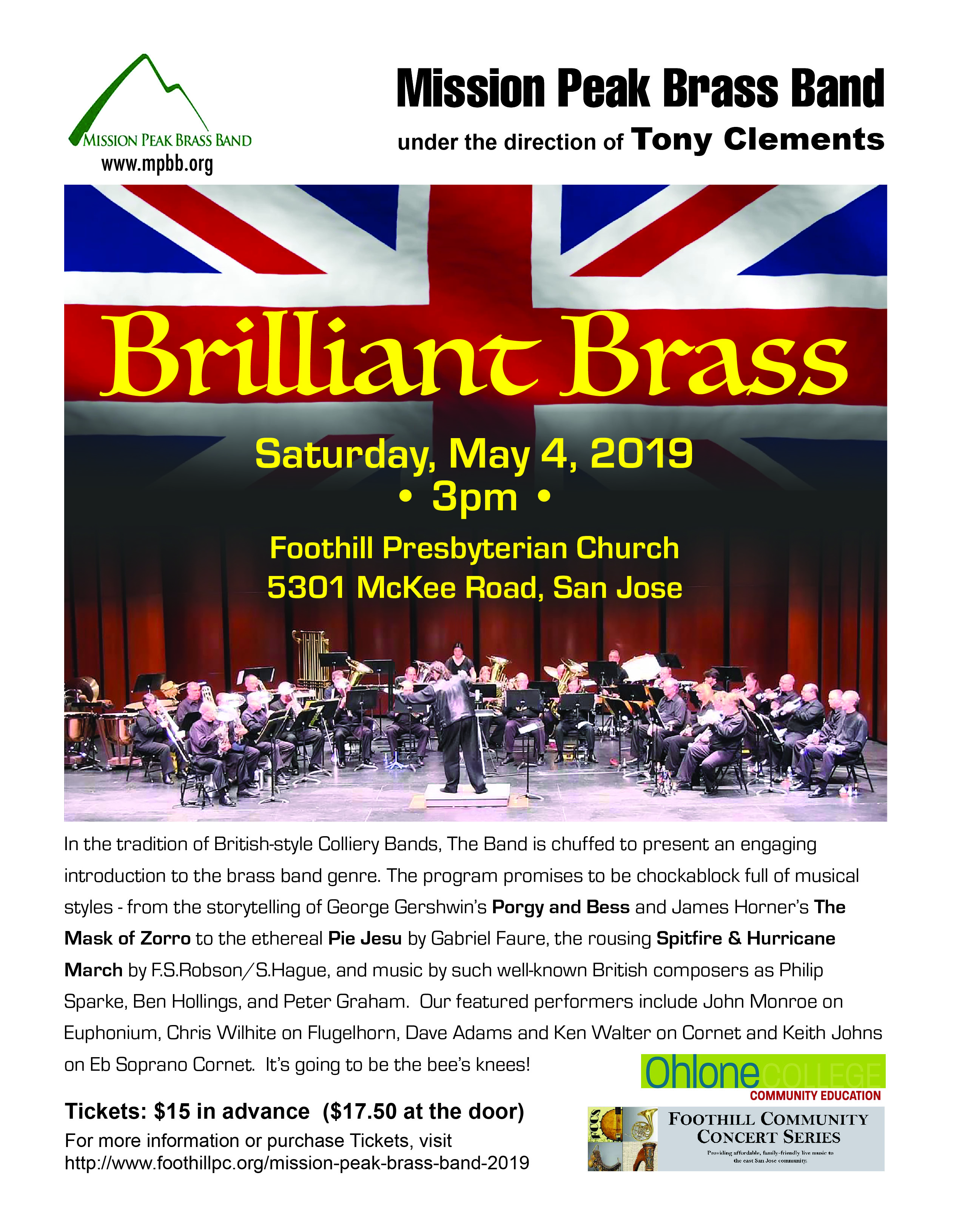 Mission Peak Brass Band – Brilliant Brass
Saturday, May 4, 2019 • 3:00pm • Foothill Presbyterian Church, 5301 McKee Rd, San Jose CA 95127
In the tradition of British-style Colliery Bands, The Mission Peak Brass Band is chuffed to present an engaging introduction to the brass band genre. The program promises to be chockablock full of musical styles – from the storytelling of George Gershwin's Porgy and Bess and James Horner's The Mask of Zorro to the ethereal Pie Jesu by Gabriel Faure, the rousing Spitfire & Hurricane March by F.S.Robson/S.Hague, and music by such well-known British composers as Philip Sparke, Ben Hollings, and Peter Graham. Our featured performers include John Monroe on Euphonium, Chris Wilhite on Flugelhorn, Dave Adams and Ken Walter on Cornet and Keith Johns on Eb Soprano Cornet. It's going to be the bee's knees!
Tickets $15 in advance and $17.50 at the door.
For more information, visit http://www.foothillpc.org/mission-peak-brass-band-2019
========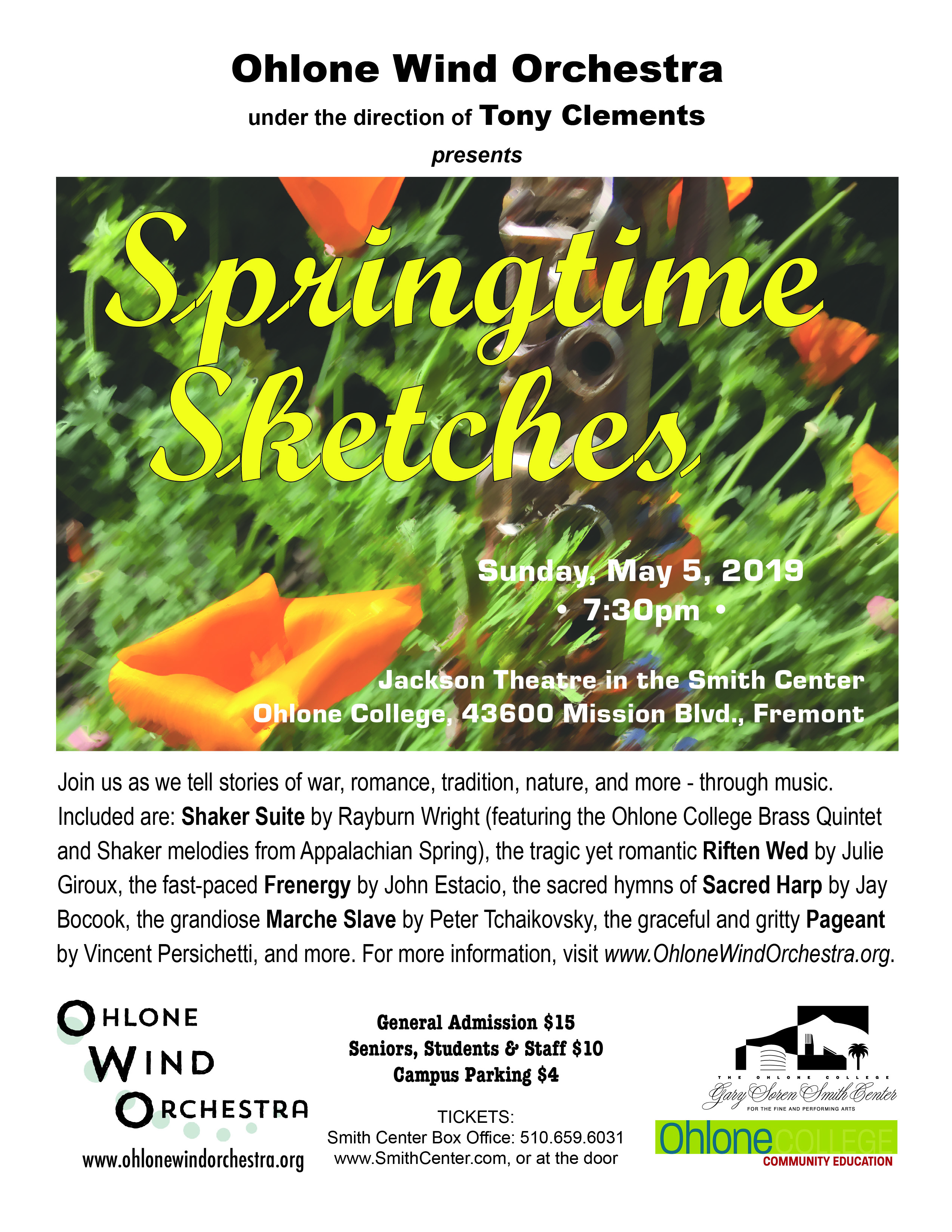 Ohlone Wind Orchestra – Springtime Sketches
Sunday, May 5, 2019 • 7:30pm • Smith Center, Ohlone College, Fremont
Come join the Ohlone Wind Orchestra as they tell stories of war, romance, tradition, nature, and more – through music. Included are: Shaker Suite by Rayburn Wright (featuring the Ohlone College Brass Quintet and Shaker melodies from Appalachian Spring), the tragic yet romantic Riften Wed by Julie Giroux, the fast-paced Frenergy by John Estacio, the sacred hymns of Sacred Harp by Jay Bocook, the grandiose Marche Slave by Peter Tchaikovsky, the graceful and gritty Pageant by Vincent Persichetti, and more.
Tickets $15/$10 at the door or www.SmithCenter.com. Parking is $4.
For more information, visit www.OhloneWindOrchestra.org
========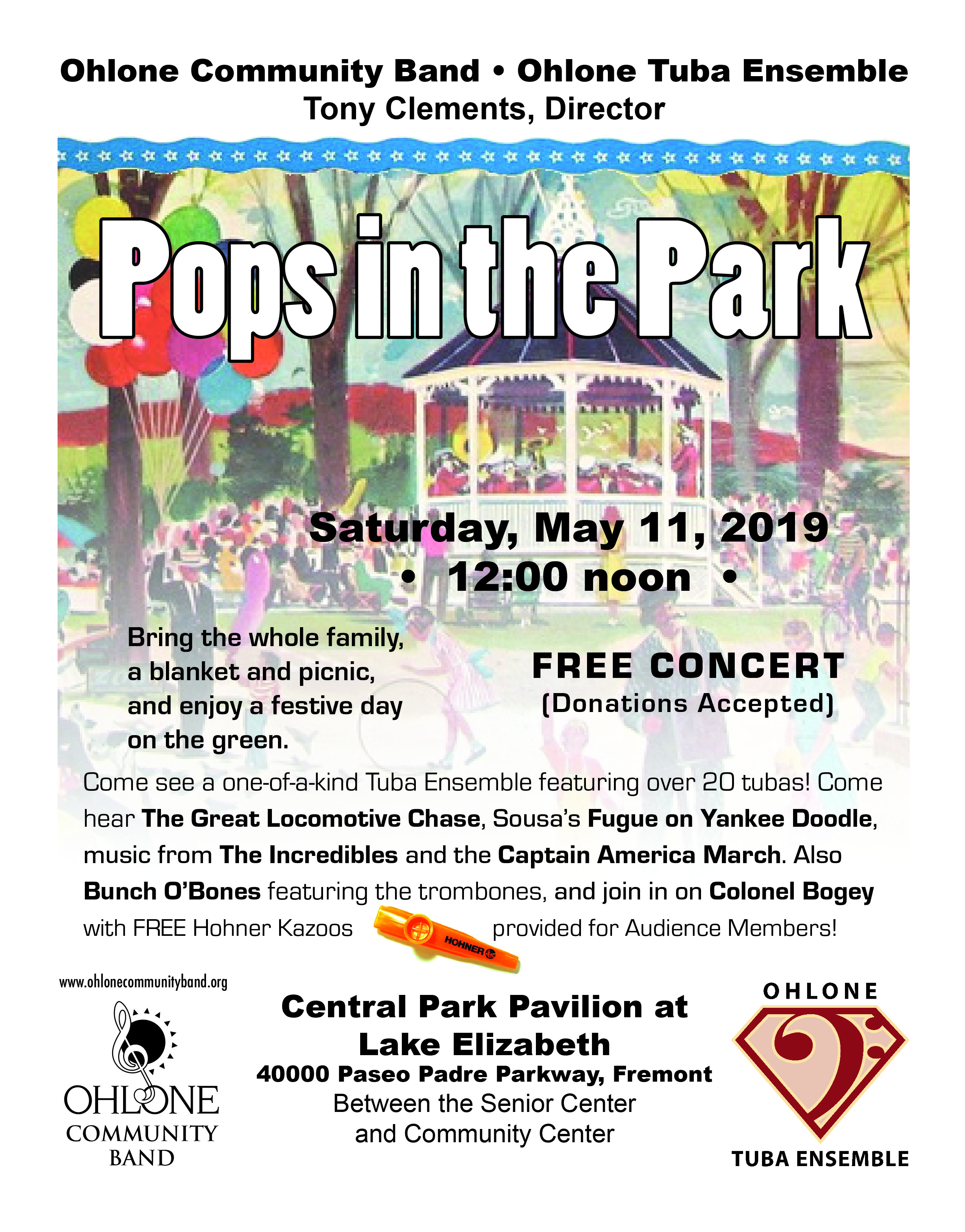 Ohlone Community Band and Ohlone Tuba Ensemble – Pops in the Park
Saturday, May 11, 2019 • Noon • Performance Pavilion, Central Park, Fremont
Come join the Ohlone Community Band and the Ohlone Tuba Ensemble as they present a FREE Concert in the Park. First will be the one-of-a-kind Ohlone Tuba Ensemble – featuring over 20 tubas! Then the Ohlone Community Band takes the stage, featuring such pieces as: The Great Locomotive Chase by Robert W. Smith, Captain America March by Alan Silvestri, Fugue on Yankee Doodle by J.P. Sousa, The Incredibles by Michael Giacchino, Ben Hur by Miklos Rozsa, Bunch O'Bones by Richard Fote (featuring the trombone section), and Colonel Bogey March by Kenneth Alford (with free kazoos provided). Bring a blanket, a picnic basket, and enjoy the music!
FREE CONCERT!
For more information, visit www.OhloneCommunityBand.org