How to Find Us:
We rehearse every Wednesday Evening from 7:30PM – 9:30PM in
the Ohlone College Smith Center – TV Studio B (Room SC-144)
Ohlone College
43600 Mission Boulevard
Fremont, CA 94539-0390
Fremont Campus Map: http://www.ohlone.edu/core/mapsdirs/maps/fremontcampus.html
Parking:
Campus Parking = $4.00 per Vehicle or Semester Parking Permit
Handicap Parking still requires the $4.00 Parking Permit, in addition to the Handicapped Plates or Placard.

You will need to display either the Daily Permit or your Semester Parking Permit – At All Times you are parked on Campus.
For Semester Parking Permits – Visit:
https://www.paymycite.com/ohlone/parkingpermit.aspx
We can park any time in Lots E, G or H and the new South Parking Structure with either a Semester Parking Permit or a Daily Parking Permit.
Smith Center Concert Parking:
Event parking for the Smith Center is available in Parking Lots U, V, and W. Additional parking is available in Lots D and E. ADA Parking is available in Lot U above the Smith Center with a parking pass and ADA permit
Event parking is allowed with a semester parking pass or a one-day permit. If you do not have a semester permit, you must purchase a $4.00 daily permit from vending machines in parking lots E or H and the new South Parking Structure.
If the parking lots are full, it is possible to drop your party off closer to the theater at Lot U and exit at Lot V, and rejoin them after parking the car.
http://www.ohlone.edu/org/smithcenter/directions.html#parking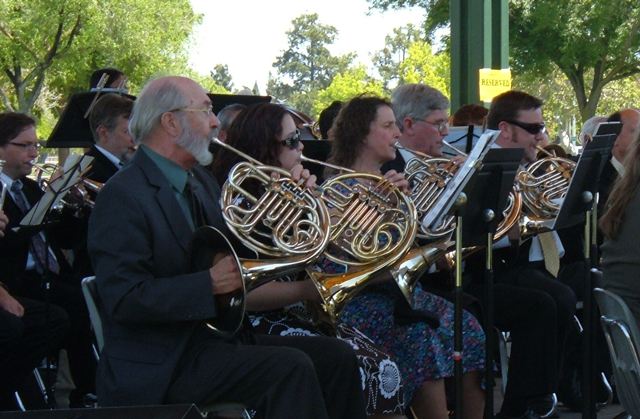 The OCB Horn Section – Concert in the Park – May 2009
(Photo Courtesy of Raul Dingle)